Dear Member
As we are heading towards the Wimbledon period, we will hold the Club's Wimbledon ballot next Wednesday 10th May at 7.30pm. The draw is open to tennis members who have OPTED IN on the LTA website and are linked to our Club. If you cannot attend, feel free to send a proxy but please let me know who it is beforehand. The list of available tickets and their prices is displayed on the tennis notice board. (I can send you the list electronically if you wish).
Our Club 100 winners for the last 3 months are:
March: 1st prize Shamim Hirji, 2nd prize Bill Groves, 3rd prize Dilip Patel
April: 1st prize John Smith, 2nd prize Matt Holland, 3rd prize Laurie Newland
May: 1st prize Linda Obrart, 2nd prize Fiona Brandman, 3rd prize Carole Holland
Congratulations to all winners! I have put your cheques in the post today.
Our Club Open Day will take place on Sunday 14th May, starting at 11am. Please come along and support the Club. There will be lots of activities on the day and we encourage anyone who wants to take up membership to do so, as we will give a 20% discount off the annual subscription rate. This offer is valid on the Open Day only, so please encourage your friends and family to sign up ;-). The special deal will also extend to gym and squash memberships. Please spread the word!
For the Open Day you can either book your place online or just turn up. If the system says that the session is full up, don't worry and come anyway. You can always have a hit with your friends on one of the courts 😉
This is the link to the Open Day programme. Please share it with your friends:
https://clubspark.lta.org.uk/OpenDays/OakleighParkLawnTennisSquashClub/319738b7-c449-4455-ad5b-6e79b3e23183
Swimming Pool: I would like to remind you that on Saturday and Sunday afternoons, our members may use the swimming pool free of charge. This arrangement is for members of any category and grants them free use of the pool on Saturdays and Sundays from April to September, between 4 pm and 5.45pm (in 40 minutes slots). Please tell the receptionist your name and membership category when you arrive.
Tennis:
Please note that between the 12th and 14th June our front artificial grass courts will be cleaned. Unfortunately you won't be able to use these three courts during this period but the result will be worth waiting for ;-). Our macadam courts will soon be pressure washed as well, but we don't have a date yet. I will let you know as soon as possible.
Last weekend's BANK HOLIDAY TOURNAMENT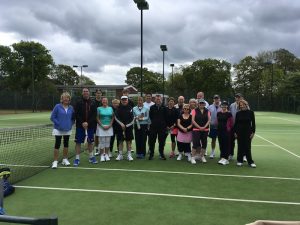 Thanks to everyone who attended the tournament last Monday with over 20 people taking part.
Winner of the Red Team -David Newland
Winner of the Blue Team – Gregor Kosta
Thanks to Luke for kindly donating 2 private lessons with him as the prizes and also to Alexa once again for providing a lovely lunch.
Good wins for Oakleigh Park:-
Aegon Tournament Ladies Team beat David Lloyd Enfield in the 2nd round on Sunday 23rd April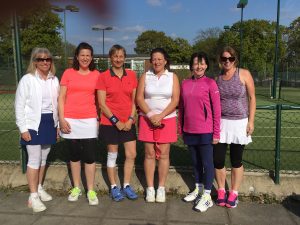 Our Mens Team beat Conway in their 2nd round and
Our Under 8's Team beat Vicars Moor in their match too on Sunday 23rd April
Well done to all the players!
The matches were played in glorious sunshine with good support from parents and club members – thanks to all who provided the refreshments for adults and children, and especially to Luke for valiantly turning up to help run the event after having run the London Marathon – Congratulations Luke.
Middlesex Summer League
Another good win for OP – Ladies 2 beat Temple Fortune on Monday 24th April – they won 14 -10 in the first match of the Summer league.
Squash:
Advanced squash training…The last five sessions before the Summer break begin next Thursday 11 May at 8.15. Please sign up with Lucas https://app.punchpass.net/org/1286/classes
Our Spring squash tournaments are well under way. Make sure you play your next round before the cut-off date.
You will be pleased to know that we have now completed the ventilation replacement project on our squash courts. We have also replaced all strip lights so no more excuses for any poor performances ;-D
Racketball:
RACKETBALL CHAMPIONSHIP
Our annual Racketball Championship has reached the quarter final stages in both the Main Event and the Plate Competition. Finals night is just a couple of weeks away on Friday 19th May and as usual the finals will be followed by a social evening, including a finger buffet. Please put it in your diary.
And last but not least:
Can I please ask you to join ('like') our new Facebook page?
https://www.facebook.com/Oakleigh-Park-LTSC-1910454995855736/
Like, comment and share with friends! Thank you for your support 😉
Also, please note that this week, we have reached over 300 twitter followers. Follow us @OPLTSC
I wish you a very good weekend!