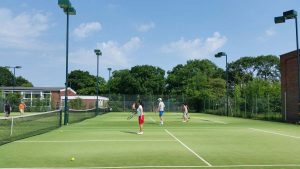 The tennis coaching courses at Oakleigh Park Tennis and Squash club welcomes non-members to join all classes.  Please note that there will be a slightly higher charge for non-members.
Oakleigh Park Tennis and Squash club provides 'non member' facilities as follows:
1. Our New Coaching Team will run organised Pay and Play (weekly coaching) tennis coaching courses sessions, which are run on a 'drop in' basis.
Length of lesson is 1,5 hours.   Cost per session is £14 for non-members and £12 for members.
These tennis coaching courses may suit individuals or groups who want to join in with others with the coach providing any support/guidance.
The classes will be running on:
Thursdays at 7pm
Additional day of the week –  tba
Please either:
e-mail: tenniscoaching@oakleighparkclub.co.uk
phone 07801 042 387
2. Pay and Play (court hire) : Non-members can hire a court subject to availability. The court fee is £20/hour which does not include light fees.
If lights are required there is a further charge of £6 per court for 1 hour.