15th July 2018 –
Come and try Tennis, Squash and Racketball on Sunday morning (from 10am)
We have a great day planned for members on 15th July 2018 – click on the attached notice below: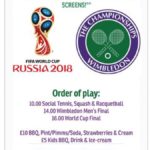 Why not come a bit earlier to the club on the day: Those members who play squash, tennis and/or use the gym,
here's a chance for you to try another sport at the club.
Balls and rackets for newcomers as well as instruction.
All you need is suitable footwear – non-marking shoes for squash/racketball.
So that we have an idea of numbers on the day, please email Alex now at the office
OR the Social Committee at: OakleighParkSocial@gmail.com
to say if you might come along to try it on the morning of 15th July 2018.